BooNBoX
KUOK Foundation
is one of the option for all students who are pursuing tertiary education and facing financial difficulties. The best thing about this award is that you can take up part-loan part-grant award and start to pay back half amount of the loan only after you graduate from the tertiary institution.
The other very good thing is that the loan is
interest-free
!! I'll describe the type of award offered by KUOK Foundation...


KUOK Foundation Berhad is one of the charity company subsidised by KUOK organisation, by a Malaysian Tycoon

Robert Kuok

(known as

Sugar King

of Malaysia). Every year this company helped a lot of Malaysians fulfiled their dreams of pursuing higher education without financial problem. The above awards are not scholarships but are financial assistance given to needy students in the form of interest-free study loans or part-loan, part-grant study awards. Study loans are repayable by monthly instalments upon graduation. The type of award to be offered to any one student will be decided at the absolute discretion of the Foundation.

Basically KUOK Foundation helps students from various backgrounds but concentrate more to those facing financial difficulties. The other rule from KUOK Foundation is that the student MUST BE ACCEPTED into one of the local public tertiary institutions, IPTA (or other higher institutions, IPTS as listed by KUOK Foundation) OR accepted into a

SINGAPORE PUBLIC UNIVERSITY

(

National University of Singapore, Nanyang Technological University or Singapore Management University

).

The loan is upto RM9,000 per annum for the whole course period for students from Engineering, Medicine, Dentistry, Pharmacy, Science related etc courses while students doing Arts bachelor wil get upto RM8,000 per annum while for students in Singapore, only Medicine and Dentistry students may take the loan upto RM28,000 per annum while all other students may take loan upto RM20,000 per annum. To ease your eye-soreness, I've put the figures into the following table :-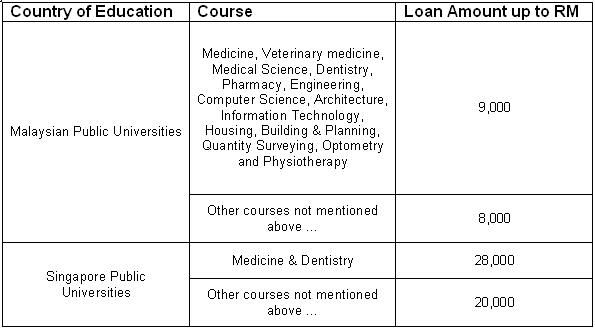 *The above loan amount is PER ANNUM. The award will include the WHOLE DURATION OF YOUR COURSE with some regulations such as meeting minimum academic requirement to continue the award every year.


Conditions for Application

- Only Malaysian citizens are eligible to apply
- Applicants should possess good academic qualifications and should be active in school
- Kuok Foundation Undergraduate Awards are for needy students only
- Only undergraduates / prospective undergraduates reading for a first degree are eligible to apply.



Procedure for Application / Work Flow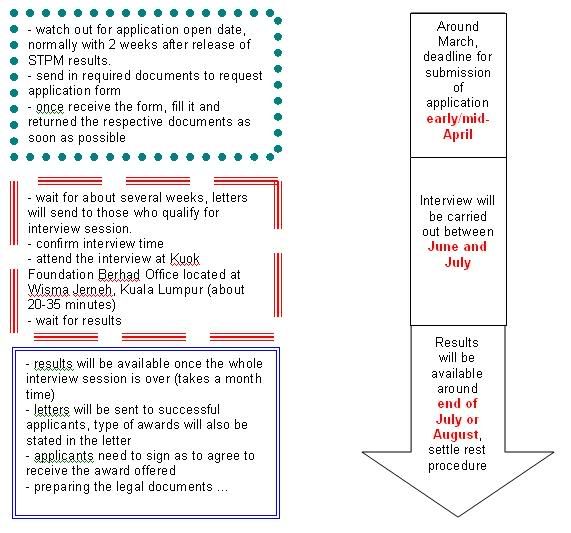 You are welcome to ask any questions !! By the way I am waiting for their money ... kinda poor in Singapore now ... lol

Read Kuok Foundation Undergraduate Awards Part II
Liked this post?
Subscribe now to read more post like this one!
Tweet